A heads up before they vote
Wouldn't it be nice if your organization were able to keep tabs on issues important to you across multiple cities and counties with one user-friendly online tool? We can give you that "heads up" with our powerful and affordable local government monitoring service.
Request a Demo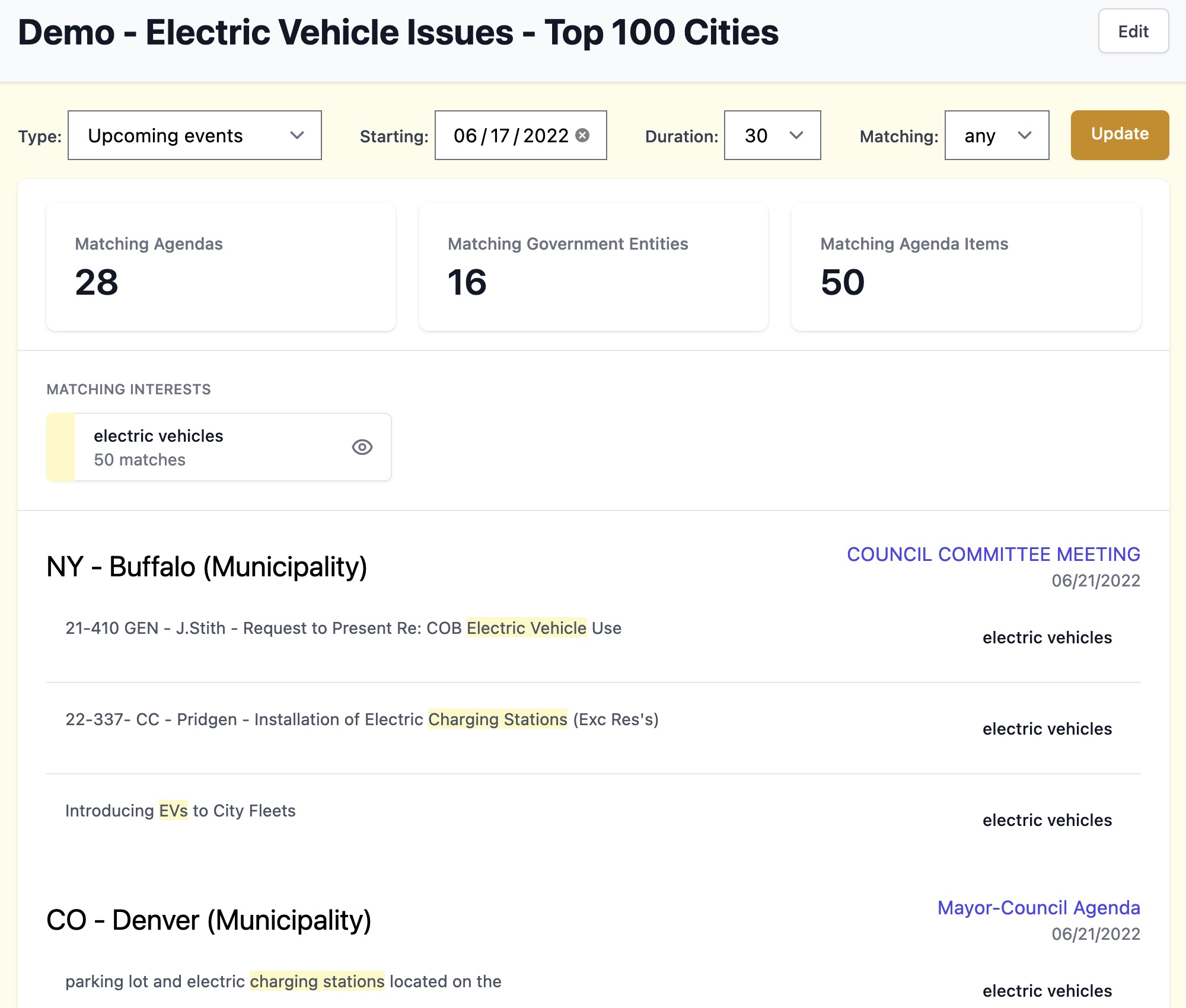 What our customers are saying
Before Voterheads … we were blind to some ordinances until the very last minute. … With Voterheads, the additional time that we have to react is invaluable. It can mean the difference between months and hours and in multiple instances has saved us thousands of dollars in underground cable repairs.
I really like the ability to hop on my Voterheads account at any time of the day and run a quick report to see what's happening at the local government level in my region.
How it works
Custom local government monitoring
You choose which local government entities and keywords you want monitored.
At any time, you can edit the parameters of your monitoring service.
Your account includes the ability to create additional Reports at no extra charge, allowing you to drill down to specific topics and specific local governments areas.
On-demand reporting
At any time you can login in to your account and run a real-time report showing everything our system has picked up for you up to that point in time.
On-demand reporting allows you to also look at various points in time without making edits to your existing Reports.
Email alerts
Your account can be set up to send email alerts to your inbox that show a quick look at activity our system has discovered for you overnight. The email alert also includes a quick link to your latest report.
These alerts can be sent any morning of the week or all mornings of the week and can be set to show upcoming meetings as well as past meetings.
Widgets for Media Companies
Our easy-to-install widgets will automatically populate the local government section of your online publication. Your readers will see upcoming public meeting details, including topics and source agendas.
Here are examples of our free version:
More testimonials
Trying my best to monitor local government for proposed ordinances, I had been checking city and county websites myself, and relying heavily on Google Alerts. That was very time-consuming and Alerts came individually, instead of in a centralized report. Then I found Voterheads. Everything is packaged in one nice, easy to read report that I can set up to receive with email alerts or just run on demand at any time of the day. Now I can react much more quickly. Thanks Voterheads!
See the power of our system in action